Graffiti Residents, Artisans, Photographers, Heritage Impressionist, Craftsman, and Sculptors- a one-day Marketplace opportunity for artisans to be available for SALE, HIRE, OUTLET, or WAGE demonstrating their creative skills at their craft.  Robert Atkins, Augusta GA, Guest Artist.  His rendition of First Lady, Michele Obama is a must see.  Saturday, November 5, 2016 ONLY, 12:00pm-7:00pm, Exhibit display in Lobby of DeVilliers Square, Vendor opportunities available in the parking lot.. 321 North DeVilliers, Pensacola, Fl 32501.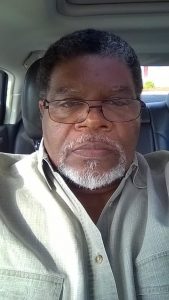 Robert Atkins is a native of Pensacola, Fl. Robert attended public school here in Pensacola, but his love for art begin long before he started school. Robert feels that his talent is a God given one due to the fact he could draw recognizable figures and objects before he could write. One of Robert's sisters Shirley Walker in an effort to teach him to write would have to tell him " lets draw your name" that held his attention long enough so he could learn to write. Growing up on DeVilliers St. life wasn't always easy but Robert's house was full of love and a strong sense of encouragement for his art. Robert recalls his first paint set was two bottles of Griffin shoe polish one bottle black, the other white, he would mix these to get all the shades of grey to paint with.
Robert was always encouraged to draw, there was always someone placed in his life that believed in his talent. After the death of his mother, Robert's art became what he considered his saving grace, his mother was his greatest supporter so when she left he never wanted to let her down so he devoted more and more of his time to improving his art work. Once again upon entering Washington Junior High School, there he meet his first non-family member that would challenge his ability, not settle for anything less than his best and make him see art in a totally different light, that man was John Baines. The next three years was filled with a growth in art Robert had never known.
During  his ninth grade year as he prepared to leave Washington Junior High School once again, what he now see as God directing his artistic quest, Robert was like so many young boys at that time looking for a after school job. He had always seen this building on Palafox St. called The Art Shop, the owner was an artist named John Kemp. Mr. Kemp and Robert became quick friends and Mr. Kemp saw the love and potential in Robert and offered him lessons free. Not being able to pay all the time Mr. Kemp would give Robert pastel and paper to help him in his work. Mr. Kemp also introduced Robert to Pete Perez an instructor at the then Pensacola Jr College. Mr. Perez offered Robert classes in charcoal drawing on Saturday mornings.
After graduating from Pensacola High School Robert attended Wiley College in Marshall,
Where he entered the Marine Corps PLC OCS program where he begin to travel and see all the sites and people that would serve as subjects for the rest of his life. It was during this time in Robert's life he realized that his gift was really a gift from God and the only way to show his appreciation was to offer it to young children the same way he had received it, FREELY. Robert opened an art shop of his own called Reflections Pastel Portraits and Paintings where he taught classes to any child that showed an interest in drawing, Robert would tell parents just bring the child and an open mind and he would do the rest. While teaching and selling art work from his shop Robert was approached by a lady named Georgia Blackmon and there began the opportunity of a lifetime for Robert. Mrs. Blackmon offered Robert a chance to teach art to children in her after school program, he quickly accepted and that program has changed his life. Robert feels he is half as good as he will be, to go further is to reach back, be that mentor for young children much as so many people was placed in his life.
Robert now lives in Albany, Ga but never forget his ties to Pensacola, his works of art are on display at The Gathering Awareness and Book Store on DeVilliers St. His works now include private and public collections in Florida, Georgia, Alabama, North and South Carolina, Virginia, Texas and Washington, DC.
You can also view his work on Facebook @ Reflections Pastel Portraits and Paintings.